Main Content:
Women's Summer Dresses
Our
womens summer dresses
are selling out quickly. Grab them before they're gone!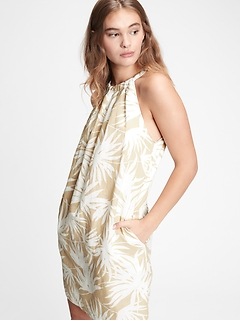 Shop Cute Summer Dresses for Women at Gap
Enjoy long days and warm temperatures with women's summer dresses from this inspired collection at Gap.
Designs for Summer Fun
When the mercury starts to rise and the sun sets late, you need airy new designs that are made for summer fun. With summer dresses from Gap, you'll have a fashionable new look for making the most out of the wonderful season. Whether you're dining al fresco overlooking the bay with your special someone, enjoying a picnic in the park with your best friends, or hitting the dance floor at the club, you'll find it's easy to create a signature outfit with these fantastic garments. Bring home something unique and interesting today, and make plans for times you'll never forget.
A Diverse Selection of Dresses
Whether you're into cute midi dresses that are both sophisticated and playful, elegant maxi dresses, casual-chic t-shirt dresses, or classic fit and flare designs, you'll find it all at Gap. Great fashion is all about matching your apparel with your unique personality and attitude. With options from this selection, you'll have no problem finding a dress that lets your individuality shine through. Browse this line and discover lush solid colors, bright, lively floral prints, and always popular stripe patterns. Select the creations that speak to you and pair them with your best shoes and most stylish bag.
Fabulous Ladies' Summer Looks
There's nothing like going wherever the wind takes you on your day off. With adaptable ladies' summer dresses from Gap, you'll have no problem crafting effortlessly chic looks for whatever your day may have in store. From Sunday brunch to a night around the bonfire on the beach, these smart garments will deliver. Throw a t-shirt dress on over your bathing suit for a trip to the lake, or mingle with your neighbors in a refined, yet approachable fit and flare number. Choose these outstanding new designs and always have a stunning look on hand and ready to go.
Upgrade your wardrobe this season with new summer dresses for women from this stylish selection at Gap.