Side Navigation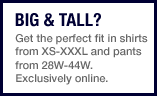 Special Sizes
Features
Departments
Deals
More Searches
Main Content:
Wrinkle Free Shirts for Men
Gap Wrinkle Free Shirts for Men
Find wrinkle free shirts for men from Gap for a crisp, masculine look.
Wrinkle Free Shirts for Men Gap Collection
The bright colors of our no iron shirts are the most popular colors of the season. Find bright color solids, plaids, checks and classic white. We have improved the style of our shirts by taking in the waist for a closer fit and making the sleeves larger. One of the latest trends in men's shirts is to push up the sleeves or roll up the sleeves and our larger cut makes this easy.
Wrinkle Free Shirts for Men Features
Our wrinkle free mens shirts are the perfect fashion for travel. You no longer have to worry about ironing or dry cleaning. Our wrinkle free fabric and tight topstitching make these shirts look fabulous right out of the dryer. Made from a 100% natural cotton, the no iron feature comes from the weave and construction.
Gap Wrinkle Free Shirts for Men Style Tips
Enjoy the low maintenance of no iron shirts for men. These amazing shirts are made from a specially blended fabric that resists wrinkles. Wear our shirts with a business suit, slacks or khakis for a dressy look. Our shirt collars are designed to wear with ties or to be unbuttoned and they retain their crisp shape for any occasion. Wear these shirts for casual occasions with shorts, khakis or jeans. You'll love the versatility of wrinkle free shirts. The colors we offer in shirts will coordinate with your wardrobe and give you the current vibe that's in fashion. Garments from this collection give you the tailor made look that helps you dress for success. Whether you buy our shirts for dress occasions, business or for casual wear, you can be confident that you'll look your best.
Buy wrinkle free shirts for men from Gap that are great for travel and come out of the suitcase ready to wear.
SIGN UP FOR
GAP EMAILS
Find style, news, and an exclusive offer!*
Footer Navigation:

Find Us
1.800.GAPSTYLE (1.800.427.7895)
Connect