Side Navigation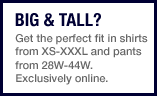 Special Sizes
Features
Departments
Deals
More Searches
Main Content:
Mens Long Sleeve Denim Shirts
Gap Mens Long Sleeve Denim Shirts
Look put-together in the easy style options of the mens long sleeve denim shirts at Gap. The outstanding tailoring ensures a flattering fit that's slimming for your figure. The laid-back collection offers pieces to wear with jeans, cargo pants, and shorts. Walking aimlessly through town just because you have the time? You may not have any direction in mind but keep your image polished with the timeless long sleeve denim shirts for men. Choose from a button or snap front to achieve the level of comfort and stylishness you want. The versatile mens long sleeve jean shirts at Gap help you create numerous outfits from one wardrobe staple.
SIGN UP FOR
GAP EMAILS
Find style, news, and an exclusive offer!*
Footer Navigation:

Find Us
1.800.GAPSTYLE (1.800.427.7895)
Connect