Side Navigation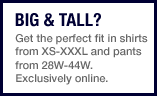 Special Sizes
Features
Departments
Deals
Main Content:
We are currently running low on men's fleece hoodies, but here is a selection of men's hoodies that may interest you.
Gap Men's Fleece Hoodie
Gap has a selection of men's fleece hoodie which offers a fresh take on trends by adding subtle details and stylish accents. The men's fleece hoodie collection gives you a variety of colors to choose from, allowing you to create an individual look that is all your own. The fabric and construction used to make men's fleece hoodie ensures a comfortable fit that complements your every curve. Shop for men's fleece hoodie at Gap to get a terrific combination of style and comfort.