Side Navigation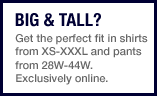 Special Sizes
Features
Departments
Deals
More Searches
Main Content:
Gap Men's Casual Shirts
Choosing the right mens casual shirts can often be a tricky proposition, unless you shop at the Gap.
Mens Casual Shirts Gap Collection
The casual shirts for men from the Gap are available in a large variety of colors, styles, and designs. We offer an array of solids, stripes, and prints that will appease the most style conscious guys. Choose from a variety of long and short sleeves to complement and complete your wardrobe. Our shirts are versatile, and you will find something for every occasion and location. We make it easy to expand your clothes collection with just the right type and style.
Mens Casual Shirts Features
The Gap's men's casual shirts are manufactured from high quality 100% cotton. They are durable and easy to maintain. Just throw them in the washer. The material feels great against the skin. You can rest assured that the fabric will keep its color, stay comfortable, and have a long life. They feature collars, button fronts and patch pockets. Designed to fit perfectly, whether tucked in or left out. Our casual shirts are not mere items of clothing. They are essential to the wardrobe of a fashion aware guy.
Gap Mens Casual Shirts Style Tips
The Gap's casual long sleeve shirts for men have become very popular in the corporate environment. That is because they have a classy appeal. Take charge with a solid, two-pocket shirt with slacks and brogues on casual Friday. A striped or patterned shirt with jeans and boots will look good in any casual setting, from a lunch date to a game of pool at your favorite sport's bar. Add an attractive lightweight blazer and you will stand out from the crowd. You can layer them with a graphic t-shirt and look cool at the ball game or the park.
You can never own too many mens casual shirts from the Gap.
SIGN UP FOR
GAP EMAILS
Find style, news, and an exclusive offer!*
Footer Navigation:

Find Us
1.800.GAPSTYLE (1.800.427.7895)
Connect