Side Navigation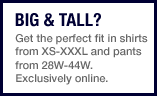 Special Sizes
Features
Departments
Deals
More Searches
Main Content:
Gap Men's Undershirts
Men's undershirts from Gap are the favorites of guys who love quality and great-fitting style.
Men's Undershirts Gap Collection
Gap offers a variety of undershirts for men neutral colors needed for a great look. Find undershirts in a classic variety of gray shades and black. Our shirts are available in crew neck and v-neck designs, so you can choose what works best for you. All of the undershirts in this assortment have short sleeves that are cut for a snug and comfortable fit.
Men's Undershirts Features
The quality mens undershirts offered by Gap have the designer touches that make them favorites. Shirts from this collection are made from a mostly cotton blend with just a touch of stretch fabric so that they hold their shape no matter how often they are laundered. Our undershirts do not twist or shrink and resist wrinkles. Find designer details including topstitching the seams so that the shirts maintain their shape and look fresh.
Gap Men's Undershirts Style Tips
Wearing a great-fitting mens undershirt is a tradition for guys who dress for success. The Gap version of a man's undershirt is a well-made fashion on its own. Wear it alone for casual situations with jeans, shorts or khakis or add a blazer or sweater for an urban-mod trend. Our undershirt is made to wear layered under a long-sleeved oxford dress shirt to keep it wrinkle free and dry no matter what the weather. Our shirts are tapered at the waist so that you get a seamless look under a shirt and tie. Layer these versatile shirts under a casual jacket. You can also wear our undergarments under a pullover wool sweater to prevent itching. One of the latest trends in menswear is wearing undershirts with dress slacks for a hip study in fashion contrasts.
Whether you are wearing Gap men's undershirts as underwear or as fashion shirts on their own, you will love the quality and style.
SIGN UP FOR
GAP EMAILS
Find style, news, and an exclusive offer!*
Footer Navigation:

Find Us
1.800.GAPSTYLE (1.800.427.7895)
Connect