Side Navigation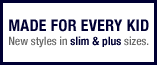 Special Sizes
School Uniforms
Features
Departments
Deals
Main Content:
We are currently out of Girls Scarves, but here is a selection of Womens scarves that may interest you.
GapKids Girls Scarves at Gap
The girls scarves at Gap are a fun way to keep warm and look stylish. Find a great collection of girls scarves made with soft fabrics for a cozy and comfortable feel. Choose from cute designs and get a girls scarf that she will love to wear. The selection of girls scarves at Gap add a terrific touch to any outfit and they are sure to brighten any cold day. At Gap, you are sure to find a girls scarf or two that you can simply not live without.