Side Navigation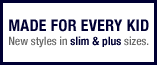 Special Sizes
School Uniforms
Features
Departments
Deals
Main Content:
We are currently running low on girls corduroy pants, but here is a selection of girls pants that may interest you also.
GapKids Girls Corduroy Pants at Gap
The best dressed girls shop GapKids for girls corduroy pants that fit just right. Our corduroy pants for girls are styled for every occasion, casual to dressy. Available in a variety of dark solids and bright colors, the girls corduroy pants in this collection are popular favorites with the younger set. Our corduroy pants for girls are designed by experts in cut and sizing for the best fit possible.