Main Content:
Gap now ships to Australia!

Global e-commerce provider, FiftyOne, now ships Gap products internationally. By placing an international order, you acknowledge that your financial transaction and shipment will be processed by FiftyOne. Your customer service needs will be handled directly by Gap Inc. Here's what you need to know:


Your user experience will be in the English language
Pricing will be in your selected currency throughout your shopping experience
The price you see at checkout is the guaranteed cost - there won't be any adjustments to billed cost after you complete your order
Please learn more below.


About FiftyOne
FiftyOne partners with online retailers to sell internationally by providing international customers with access to products found in the United States. FiftyOne allows local currency prices to be visible throughout gap.com and displays your final total (including customs tariffs, taxes and shipping fees) during Checkout. FiftyOne also enables Gap Inc. to take advantage of a shipping network that delivers packages quickly and reliably to global customers.


International Shipping Options & Charges
Shipping costs are calculated based on a number of factors, including the number of purchased items, the weight of the items and the destination country postal code. During checkout, international shipping costs will be calculated and guaranteed by FiftyOne based on the items you are purchasing and your shipping destination.


Unfortunately, we cannot offer free shipping or free returns on international orders.
International customers may ship to multiple addresses by placing a separate order for each shipping address. We cannot ship single international orders to multiple addresses at this time.


Most in-stock items will arrive 11-24 business days after receipt of your order. A shipping timeline specific to your destination can be viewed in Checkout.


Please note that shipping windows are estimates and delivery dates cannot be guaranteed.


Returns
We cannot offer merchandise exchanges on orders shipped internationally. If you need to exchange an item, please return the item and place a new order for your desired product.


International orders must be returned via FiftyOne and must include a Return Merchandise Authorization form. Please contact Gap Inc. Customer Service to receive this form.


Refunds on international orders include duties, taxes and tariffs when sent with the Return Merchandise Authorization form to FiftyOne. Unfortunately, we cannot refund your original domestic and international shipping charges. Returns sent without the Return Merchandise Authorization form may not be accepted. FiftyOne will credit your account upon receipt of the merchandise at our facility. We cannot process your return in any store location. We cannot offer free returns on international orders.


1. Placing an Order


How to Order
Click the flag at the top and bottom of any page and choose your shipping destination and preferred currency. All Gap Inc. prices will automatically be converted into your chosen currency.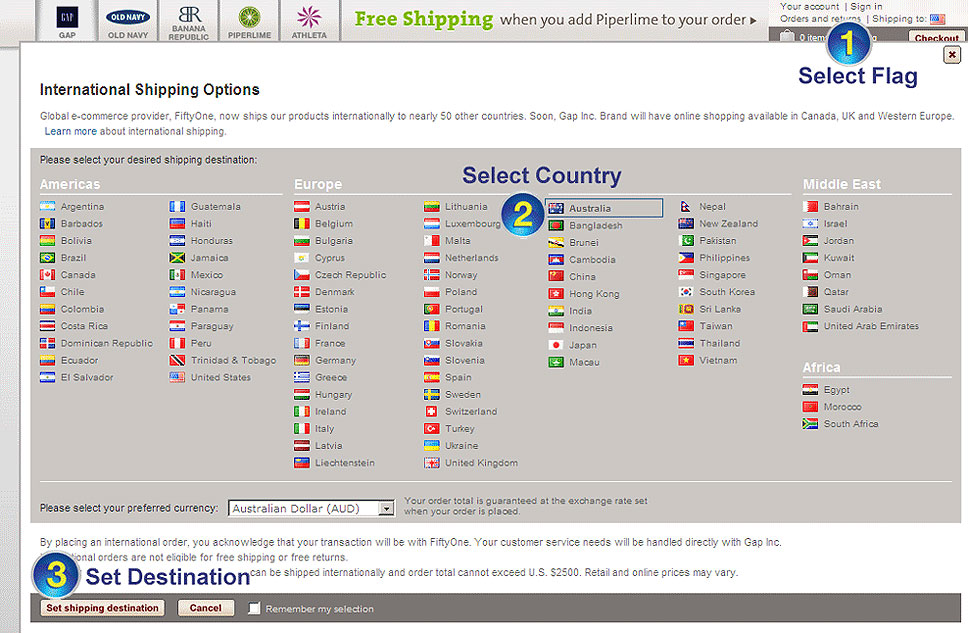 Shop Gap.com as you normally would. When you proceed to Checkout, your secure transaction will be completed with FiftyOne. FiftyOne will calculate and display a guaranteed order total, including all shipping costs and any applicable duties and taxes.


Once your transaction is complete, Gap Inc. will ship your item to the FiftyOne shipping hub in the United States. FiftyOne then ships your order to its final international destination.


You may ship to a specific country but pay with a different country's currency. If you don't see your country listed, we are not currently able to ship to that destination.
If you have a U.S. billing address and are shipping to an APO/FPO address, simply proceed through the domestic checkout process.


Exchange Rates
Foreign exchange rates are determined by FiftyOne and are based on interbank rates of exchange. These rates correspond with the average aggregate exchange rates that would otherwise be applied in an e-commerce transaction.


Gap.com updates exchange rates on a daily basis. You will receive a message if exchange rates have been updated while you are shopping.


Duties & Taxes
Your order total is guaranteed at the exchange rate set when your order is placed. International taxes, tariffs and value-added tax (VAT) will be calculated into your final order total during Checkout and can be viewed under "Duties & Taxes."


Duty, customs tariffs and VAT are set by the destination country. They are determined based on the purchased merchandise's country of origin or manufacturing and the classification of that merchandise in accordance with a harmonized system adopted and used by the countries that FiftyOne supports. The amount of applicable duty, tariffs, taxes and VAT will vary by country and will be determined and guaranteed by FiftyOne during Checkout.


Payment Methods
We accept Visa or MasterCard for international orders; PayPal is accepted for orders purchased in British Pound, Canadian Dollar and European Euro. Your account will be billed by FiftyOne when your package is shipped to its final international destination. "51*Gap Inc." will appear on your credit card statement. Gap Inc. Gift Cards, merchandise certificates and Gap, Old Navy and Banana Republic brand credit cards and Reward certificates are not accepted at this time.


Promotions & Policies
International orders are not eligible for:


Free Shipping
Free Returns
Merchandise Exchanges
Gifts with Purchase
Promotional Codes
Gap, Old Navy and Banana Republic credit card Reward points
Gift Services (gift wrap, etc.)
Other promotional restrictions may apply. Please contact us with any questions.


Merchandise Exceptions
The maximum order value for international shipment is USD $2,500.


Gap Inc. Gift Cards cannot be sold or redeemed internationally at this time.


Certain items in our online catalog may be unavailable for international shipping.


Some items, including hazardous materials, furs and exotic leathers, may not be available for international shipment. Some beauty items may be considered hazardous materials due to their alcohol content and cannot be shipped internationally. International customers will be notified to remove restricted items during Checkout.


2. Contact Us


If you are calling from outside the U.S., please call:


Gap
1-614-744-3907


Old Navy
1-614-744-3908


Banana Republic
1-614-744-3909


Piperlime
1-614-744-3910


Athleta
1-614-744-3913